Adult Martial Arts Classes
Looking for a different kind of workout?
We offer adult classes that incorporate our traditional Tae Kwon Do training with a strong and intensive fitness program. These 50 minute classes provide a workout with purpose. Our instructors will help guide you toward your goals while keeping you engaged and improving your health.
No experience is necessary. All that is required is determination and a desire to learn.
Experience our Program for 4 Weeks Free
We're so confident our program will meet your needs, that we're inviting you to try us out for 4 weeks free. Come experience the SFTKD difference.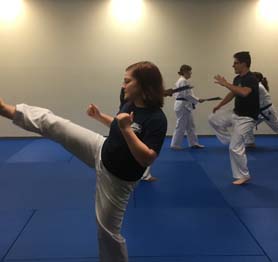 Program Information
Our Dragons program begins to build traditional Tae Kwon Do Martial Arts instruction in the areas of:
Confidence
Self Defense
Self Control
Fitness & Coordination
Our Dragon students are also introduced to the exciting sport of Tae Kwon Do Sparring as part of their core curriculum. While not a requirement, competition in local Tae Kwon Do sport events can be encouraged later in the student's training.
Students can earn stripes for each element of their curriculum they demonstrate knowledge of. Once a student receives 6 stripes for each element of instruction, they are invited to attend a Belt Promotion evaluation where they can test for their next rank.
Class Schedule for Adults
Program Pricing
We offer flexible program options when you decide to enroll. There are no enrollment fees or belt testing fees below Black Belt.
Discount pricing is available for multiple family members, first responder families, and military families.
6 Classes
Valid for 2 Months
FREE Full SFTKD Uniform
FREE SFTKD Uniform Tee
Pay as you go
Cancel any time
NO Cancellation Fee
NO Belt Testing Fees
FREE Full SFTKD Uniform
FREE SFTKD Uniform Tee
No Contract